In August we say farewell to long days with nothing to do but apply sunscreen and pack sandwiches in a pool bag. We trade our swimsuits for actual clothing and we begin clearly observing the reasonable bed time. Still in denial about the complete end of summer, we have enjoyed our first week of homeschooling and routine-building and still had time to learn a few things.
I learned the wonder of UnrollMe.com and I'm pretty sure it's a game changer. I posted on instagram about how many unread emails I had (Ahem, over 5K– not all new, most just from old things piling up,) and a friend mentioned the unrollme service. If you haven't heard, UnrollMe is a free service that accesses your email account (with your permission) and then helps clean it up in a matter of moments. Part of my problem was that I had 226 subscriptions, or companies that were regularly emailing me!! A few I wanted to keep, but most I did not. This has dramatically reduced emails coming in and I was able to add all the companies I actually wanted to hear from to a list which UnrollMe uses to send me a single email with all of those emails contained within it. WOW. Game changer, I tell ya!
Authentically great musicians sound even better in person. The list of concerts I have attended is very short and somewhat embarrassing– and none of them have been all that memorable. BUT. Drew Holcomb & the Neighbors put on the most fun concert the other night in Greenville, SC and WOW. The outdoor venue was perfect and the night was gorgeous. It was so great that my face hurt from smiling for hours after. If you ever have the chance to see them, definitely go. They sound so amazing in person. They happen to have just begun their tour– so check and see if they are headed your way here.
I broadcasted for the first time on Periscope and it wasn't a total bust! YAY! Periscope makes me nervous because once you begin recording, it is out there and you can't edit but in a world of instagram filters (which I also love) I think maybe that's a good thing. In my first post, I shared a minute or two from that super fun concert I mentioned. I'm HappyGoStuckey there if you want to join me!
Keeping good, fun, wonderful secrets from my children makes me giddy. We are taking a vacation in a couple weeks and somehow we have managed to keep it all a secret from the girls for SIX months– I'm not even certain how I haven't let the cat out of the bag all this time, because I tend to get too excited not to tell them, but I haven't. We only have a few more days of secret-keeping and then we can surprise them with the news and Oh yeah, 4b– Homeschooling is AWESOME because you get to take your vacation when everyone else is in school– Woohoo!!!
What did YOU learn this month??
Things I'm into this month:
Drinks–
Iced Americanos. Yes, please! Because we make Iced Coffee at home regularly, it's hard to find something that compares to my husband's level of coffee strength and flavor when I do have coffee out– but an Iced Americano, espresso shots mixed with water, is just the thing. Try it!
Books I'm Reading–
Longing for Paris, My Life in France and Treasure Island (for the 8th Grade Literature Class I am teaching.) And yes, these selections *may* be the same as last month. Ahem. I haven't quite fit much reading into our new routine. Once I finish one of these I can begin Simply Tuesday— which is still on a great sale over at Amazon–yay!
One more–
Being less than two months away from the Allume Conference!!! One of my favorite times of the year without a doubt is the late October gathering of like-minded artists and writers in Greenville, SC! Being in that fun-filled city this past weekend made me that much more excited. If you are at all interested, there are still tickets available– check it out!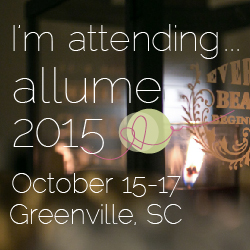 I'm linking up with Emily Freeman for What I Learned in August and Leigh Kramer for What I'm Into. Come visit!
**Some affiliate links may be present.